News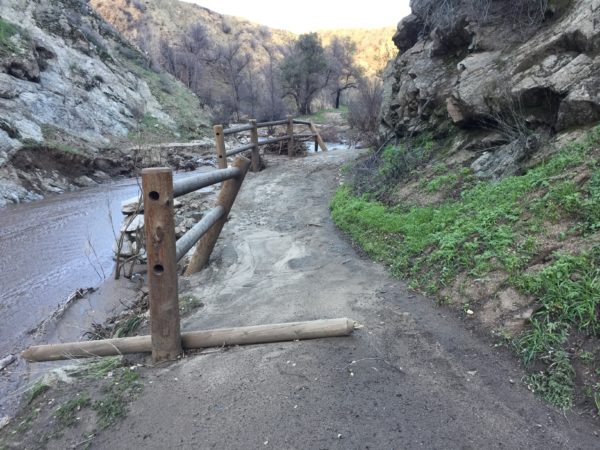 Placerita Canyon Trail Status
The Sand Fire of August 2016 did considerable damage to the trails at Placerita Canyon Natural Area. The County Parks Department has been working on restoring the trails, but it is a massive job complicated by the fact that landslides are continuing in the burned areas. As of now the Canyon Trail, Los Pinetos Trail and the Waterfall Trail remained closed. The trails around the nature center–Botany, Ecology, Hillside, Manzanita Mountain and Heritage are all open.

The Junior Ranger Program Returns!
The Placerita Canyon Nature Center is once again offering its educational Junior Ranger Program with Park Supervisor "Ranger Frank" and his friends. Program topics have already included Fire Ecology (where Smokey Bear and his U.S. Forestry friends visited the park), local Birds of Prey and Falconry, the Bats of Santa Clarita and our local Reptiles. Held on the second Saturday of each month and starting at 11:30 am, this program is free, runs for about an hour and doesn't require advance reservations. Children should be at least six years old to be able to interpret these sessions and should expect an occasional hike as well.
Placerita Canyon  Nature Center named one of the Top 25 things to do in Santa Clarita
Dream Vacation Magazine has named Placerita Canyon Nature Center one of the top 25 things to do in Santa Clarita. Click here to read the article.
Visit our Refurbished Gift Shop!
We have worked hard remodeling and refurbishing our gift shop over the past year. We have a great selection of nature themed merchandise. Our hours vary because the shop is operated by volunteers, but we are usually open on weekends–call ahead to make sure it's open (661-259-7721.) At this time we only accept cash or local checks, no credit or debit cards.

Modern Hiker Features Placerita Canyon Trail
The Modern Hiker blog has published a nice write up about Placerita Canyon's Firebreak Ridge Trail. You can read about it by clicking here.  Modern Hiker is Southern California's oldest and most-read hiking blog. It provides free trail write-ups and detailed information on hundreds of trails for Los Angeles, Southern California, and beyond. Better than any hiking guide, these write-ups give you directions to the trailhead, photos and videos of the trails, GPX files for your GPS device, and Google Earth files so you can do some at-home 3D reconnaissance before you make your way to the trailhead. Modern Hiker also highlights gear reviews, narrative outdoor writing, volunteer opportunities, and relevant news.
Local Student Uses Placerita Website to Teach Class about Nature
We recently received the following thank you from a local teacher:
"I wanted to send you an email to thank you for your webpage. I am a teacher at an after school program, and one of my students (Julia) brought in your page to help us learn more about nature and what they can do to help take better care of our planet. They've really taken an interest in it – thank you for the great information!
She also found a great webpage that I thought would fit in well with your information (click here for link.) It's been really helpful in teaching them about the importance of our forests!"
-Joan Wilkinson
Thank you Julia and Joan for the kind words and for your interest in taking better care of Planet Earth!
Placerita Canyon to Receive Grant Funding to Improve & Develop Trails
With more than $570,000 in combined grant funding by the office of Los Angeles County Supervisor Michael D. Antonovich and the State of California Habitat Conservation Fund, the Department of Parks and Recreation is pleased to announce two initiatives that will yield immeasurable benefits in the beautiful Placerita Canyon Natural Area. Click here for more info
The Canyon Trail is now Multi-Use, open to hikers, bikers and horses
As of March 9, the Canyon Trail at Placerita Canyon Natural Area is multi-use, meaning it is open to hikers, mountain bikes, and equestrians. Mountain bikers must yield to hikers and equestrians, and hikers must yield to horses. Several "pinch points" have been installed along the trail, which are rock barriers intended to slow down mountain bikes in areas with limited visibility.
Have you observed illegal, rude, or problem behaviors on Placerita Trails?
If you have expererienced or observed problems on Placertia Trails, please take time to fill out and file an incident report (click to get a pdf copy of the form.)
The form can be filled out in the park office, mailed to the park, or emailed to Russ Kimura, Park Superintendant (rkimura@parks.lacounty.gov)
Leash Law is Being Enforced at Placerita Canyon
Please keep your dogs on leash when visiting Placerita Canyon Natural Area. It is very dangerous to have dogs off leash as rattlesnakes are found frequently at Placerita in the summer and a dog/rattlesnake encounter can result in the death of both animals. Sheriff's deputies are patrolling the trails and citing offenders.
Placerita Canyon Natural Area now features parking for alternative fuel vehicles
Please take advantage of our alternative fuel vehicle parking. There are three spaces available in front of the nature center and two additional spaces in the lower parking area near the bridge. This is preferred parking for vehicles that operate on fuels other than gasoline, such as compressed natural gas (CNG), hydrogen, biodiesel, and electric or hybrid vehicles.